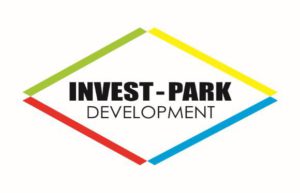 "INVEST-PARK DEVELOPMENT" LCC based in Wałbrzych,
58-306 Wałbrzych, Uczniowska 16 Street,
Phone: ( +48) 74 646-25-70; fax ( + 48) 74 646-25-74,
email: ipd@ipdevelopment.pl, www.ipdevelopment.pl
Offers developed property for sale
Storage – production hall with social facilities with surface area of 1619,10 m2 located on plot events no. 4/7, with surface area 5 386 m2, located in Wałbrzych, section no. 0033 Podgórze, AM1, on Południowa 3 Street, for which District Court in Wałbrzych VII th Division Land Registry, maintains land registry no. SW1W/000230001/3.
Description and function of property
Hall is located in south of Wałbrzych, on area of service buildings and apartment housing, very good exit off the no.35 national road is provided (gen. Wł. Sikorski Streeet directly to Moniuszki Street, commute to hall, aprox. 300m.
Plot with the hall has regular shape, flat land, free from buildings, developed on parking spaces,, traffic roads, gated property.
Hall is free-standing, single storey, without the basement, with gable roof, built in steel construction in 1998.
Useable areas (1619,10 m2) contains: service buildings, storage facilities, office speaces and social-sanitary facilities.
Hall lenght – 40 m, width- 40 m, height in the highest point: 3,5 m – 4,5 m.
In area of the hall there is technical infrastructure like: electricity, water, sanitary sewer, gas, telecomunication.
There is no zoning for the plot no.4/7 section no.33 Podgórze Południowa 3 Street in Wałbrzych,
Currently object is not in use and is not granted under agreements.
Price and conditions of sale
Starting price of the hall is: 979 000,00 zł (in words: nine hundred seventy-nine thousand zlotys 00/100), net plus VAT tax, according to the rate on the day on which the contract of sale is concluded.
Property shall be sold through a tendering procedure.
Disposal of fixed assets shall be subject to comany's agreement and/or opinions arising from articles of association.
Management Board is obligated to get permission and/or opinions referred to above, before initiation of the procedure and/or after it ends.
Interested are pleased to contact us and to check propertie's presentation
Phone numbers: 663 181 666 / 74 646 25 76
e-mail: ipd@ipdevelopment.pl